AR BLOCKSET : JOINTING MORTAR
AR BLOCKSET is cement based medium range ready mixed mortar for all type of light weight blocks (AAC/CLC).
Product Description:
AR BLOCKSET – Block Joining Adhesive is a high strength adhesive for quick and firm laying of AAC blocks with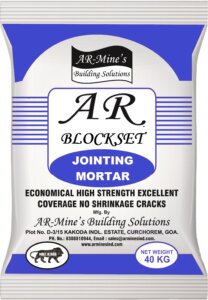 thin joints. It is a factory mixed mortar made up of cement, graded sand and blended with polymers to impart high strength and water retention properties even when in thickness of 3 mm layer. It can be applied for interior and exterior use on horizontal and vertical surfaces. While applying, the thickness of the joints should not exceed 10 millimeters (Easily obtained by using specific Trowels).
Application:
For interior and exterior use for preparing thin bed adhesive for AAC, Light Weight and Cellular Concrete Blocks.
Advantages:
High Bond Strength
No shrinkage cracks
No curing required
High Thermal Insulation
Flexible, shock & impact resistant
Improved adhesion between two blocks
Improved compressive & tensile strength
Increasing productivity onsite.
Economical, fast and easy to use (mix & apply).
Premixed
Suitable Substrates:
Aerated Light weight blocks
Concrete Blocks
Cement Mortar Blocks/Bricks
Concrete hollow blocks
Cellular concrete blocks
Fly Ash Bricks
Standard compliance:
Approved standard – ASTM C1660 – 09
Product Data
Technical characteristic
| Properties | Specification |
| --- | --- |
| Appearance | Gray Powder |
| W/P Ratio | By weight 0.30 |
| Pot life | 1.5 to 2 Hours |
| Drying Time | 24 Hour |
| Tensile adhesion strength | >0.34Mpa(As per ASTM-C1660) |
| Time to plaster | 24 Hour |
| Open Time | 30 Minutes |
| Mix Density | 2000kg/m |
Coverage:
Coverage is based on smoothness and evenness of the substrate, size of blocks used and the thickness of mortar used.
| Size of AAC/CLC Block | Coverage in Sq. Ft. for 40kg Bag |
| --- | --- |
| 600 x 200 x 150mm | 110 to 120 |
| 600 x 200 x 100mm | 170 to 180 |